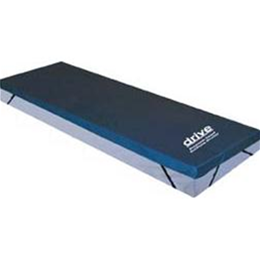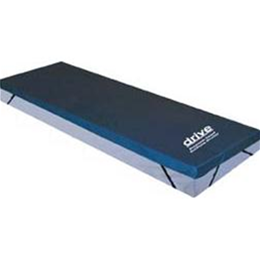 New and improved Gel Overlay has an upgraded 300 lb. weight capacity and optimizes pressure redistribution.New Upgrade: 10 gel bladders cover entire patient contact areaFull length "Head to Toe" gel bladders minimizes "bottoming out and View more
FDA Class II medical device*
New and improved Gel Overlay has an upgraded 300 lb. weight capacity and optimizes pressure redistribution.
New Upgrade: 10 gel bladders cover entire patient contact area
Full length "Head to Toe" gel bladders minimizes "bottoming out and "pitting".
New convoluted, egg crate top layer vastly improves patient comfort.
4 Elastic corner straps secures overlay to mattress.
Urethane coated nylon cover is, water resistant and vapor permeable.
Vinyl base is stain resistant and waterproof.
Designated head and foot sections.
Weight Capacity: 300 lbs.
1 Year Limited Warranty on cover and mattress.
*Pride FDA Class II Medical Devices are designed to aid individuals with mobility impairments